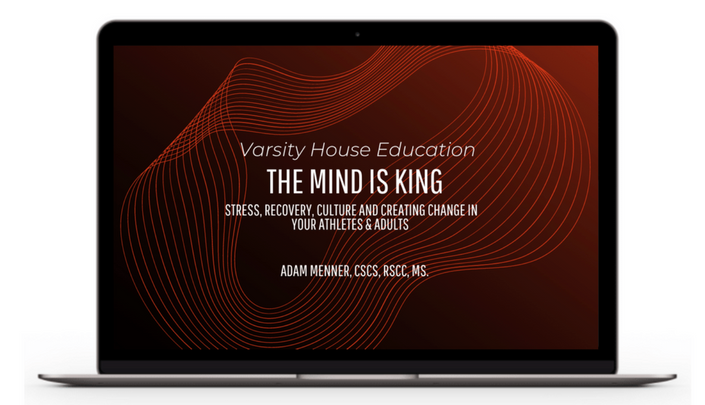 Stress
How the Brain Affects Stress, Recovery, and Creating Long-Term Adaptation
"If You Want to Make a Change, It Starts with the Brain"
Unfortunately, we live in a world where we don't understand the negative ramifications of neglecting the brain's role in human development.
You understand it from an external viewpoint.
For example, the nervous system as it pertains to output. Strength, speed, and power. You understand the sympathetic and parasympathetic tone.
However, when we peel back the layers more, you must understand the HOW and the WHY as to achieving the desired adaptations you're looking for in regards to training and health.
If you truly want to understand this principle your journey starts and ends with STRESS.
Stress is the catalyst for human performance. Whether you're an athlete or a high performing CEO, stress is the greatest power we possess as humans.
The Problem?
Stress is all processed the same in the human body. We have two points of entry in regards to stress.
ENTRY POINT 1: Psychological inputs: Stress, poor habits, poor reference points, and support systems
ENTRY POINT 2: Physiological inputs: Health, training, and performance
If you want to attract clients, get the most out of the individuals you are working with, and create sustained effort over time - you need to look through a different lens.
Unfortunately, it's extremely hard to quantify your efforts towards improving an individual's neuro-performance.

How do we quantify and identify our efforts?

At Varsity House Gym (Private Sector), we have been very fortunate to apply the principles we talk about in this lecture series.
Quantifiable Effort 1: Psychological
<2% attrition rate (250 members)
Over 1,000 athletes train for more than 3 years
17% Attrition Rate during covid 19
Quantifiable Effort 2: Physiological
EVERY athlete that steps foot in our doors improved by 8.4% in their speed, vertical jump, strength, and conditioning in 8 weeks NO MATTER THE LEVEL
Mind you, this is NOT a controlled setting - we have to work HARDER
HOW?

We've MASTERED These Principles.
We've integrated our studies and certifications from the Integrative Pain Science Institute, Psychology Degrees, and Contributors from the sports psychology field to provide you with the understanding of how to take this information and turn it into quantifiable income with your clients and athletes.
I believe we have taken the most COMPLEX principles and have made them simple for you to understand and apply to make the right changes.

As I alluded to before, we have the quantified metrics to hang our hats on. Therefore, I believe we can speak upon it, but it is merely our interpretation of deciphering the information and turning it into outcomes/income.
Understand the brain, and you win.
Clips from Our Course Stress
Course Curriculum
Module 1: Welcome to the Mind is King
Available in days
days after you enroll
Overview: Why is this Important?
Available in days
days after you enroll
Module 1: The Bigger Picture
Available in days
days after you enroll
Frequently Asked Questions
Can I cancel my membership at any time?
Yes! Although I highly doubt you'll ever look back once you see what we have to offer.
How long do I have access to the course?
How does lifetime access sound? After enrolling, you have unlimited access to this course for as long as you like - across any and all devices you own.
Will I be notified with all changes that are made?
Of course, part of this enrollment is a Main VH Portal in which you will have 24/7 access to all Zoom Links, Slack Community, and Documents.