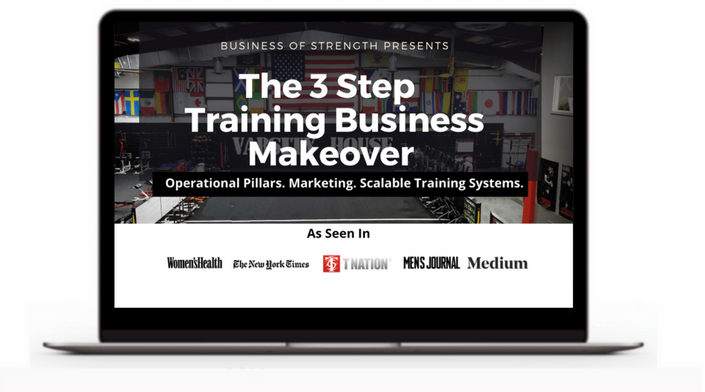 The 3 Step Training Business Makeover
Operational Pillars. Marketing. Scalable Training Systems.
VH Education in the News

Welcome to Turning Pro
---
So you have a career in sports performance and fitness. Awesome.
The world needs more people like you—smart, sincere, hard working, and genuinely invested in helping your clients reach their goals.
You Probably Began Your Fitness Journey as a Coach or Fitness Trainer Because of Your Love of Fitness, but Now, Reality Has Set in - You Need to Make More Money.
Fitness is funny, it's the one thing in life, that if you put in the work, the results will show.
You know that if you have sound nutritional and training habits you will reap what you sow.
Maybe, it was your love of sports that carried you to your current destination.
You were a competitive athlete your entire life and you wanted to guide others to do the same.
Perhaps you were overweight or uncomfortable in your own skin.
You wanted to help others show that it is possible to fight fear and change their lives through fitness.
The question is, How do you put yourself in a position to help the people who need your help, to build a successful business, and to make a good living in the process?
What the Turning Pro Lecture Series Entails
Course Curriculum
STEP 1 Clarifying Your Message + Marketing
Available in days
days after you enroll
STEP 2 Building Great Employees and Systems
Available in days
days after you enroll
STEP 3 Building a Profitable Training Product
Available in days
days after you enroll
The Sports Performance and Fitness Industry is Notorious for Long Hours, Little Pay, and No Career Direction
It has been around for over 50+ years and it will continue to only grow.

Fitness is the ultimate medicine. It has been scientifically proven to help improve the lives of billions of people across the entire world.
It helps people both physiologically, but more importantly, psychologically as well.
A lot of people get into the fitness industry for a multitude of reasons.
What About Your Goals?

You trust that, as long as you keep "over-delivering" and being a "team player" that you will reap the rewards down the road.
How long down the road?
3...5...10 years?
You may even work for an amazing company, but deep down you know, you can't do this long-term.
You see them everywhere, you know,
The motivational videos by Les Brown, Gary V, and others that tell you to put your head down and "grind."
You feel if you continue to make a difference in other's lives and share your knowledge with others for free, that you will help thousands of people.
Unfortunately, reality has set in.
Now, you feel anxiety, helplessness, and self-doubt. Can I really make this a career?
Can I create financial freedom for myself and my (future) family and live a life of fulfillment?
There are 3 Glaring Issues You Face in the Fitness Industry
No Career Path: Lack of Direction
Social Media Has Provided a Jaded View
Long Hours and Little Pay
No Career Path: Lack of Direction
The Traditional Fitness Ladder of Progression
---
Being a Fitness Professional is no easy task.
There is a lot of grey area, the barrier of entry is low, a long-term career is far from guaranteed, and the hours are high/pay is low.
Moreover, there is not a "direct path" to becoming a fitness professional. You know you have to get a good education, attend countless seminars, and spend money on personal development.
Here's the thing…
It doesn't guarantee ANYTHING. Nothing.
This does not hold true with other professions.
A Doctor
A Teacher
A Lawyer
An Accountant
A Dentist
An Optometrist
Need I go on?
You know there is a certain level of education you need, degrees you must hold, and pay scales you can strive for.
In the Sports Performance Industry
You are told to major in exercise science, kinesiology, and biomechanics, get a personal training degree, or start a social media account and sell other people's programs as your own (half kidding).
The biggest issue, a Lack of Direction.
There are more "fitness paths" than in any other field.
Personal Trainer (with a specific niche)

Works primarily with males

Works primarily with women

Fat Loss Specialists

Spin Instructor

Boxing Instructor

Group Instructor

Private Trainer Only

Physical Therapist

Nutritionist

Sports Performance Coach

Strength and Conditioning Specialist

Occupational Therapist
The Private Sector
Business Structure
The private sector consists of private, self-employed organizations that are operated by the laws institutionalized internally by the owner of the company.
These companies dictate everything from front to back.
This will include pay structure, compensations, promotions, time off, schedules, training hours, holiday closings, employee handbooks, training structures and more.
They are their own governing body that can implement rules as they please – as long as they adhere to tax, business, and legal matters.
Most Private Sector facilities are self funded and started from the ground up.
Most Private Sector businesses train a variety of clients. Ranging from athletes to adults and everything in between.
This setting will allow you to get exposed to a multitude of different populations, which can help narrow your focus.
Long Hours and Little Pay
---
The hours are terrible.
For much of the year, at least five days a week, you'll start each day before the sun comes up and finish after dark.
In between you'll have long stretches with no clients to train.
That won't change as long as you train clients in person.
You'll certainly get some clients who can work out in the middle of the day—retirees, stay-at-home moms, self-employed professionals.
However, you are going to have to say "yes" to everything. This will allow you to gain as much experience as possible to help hone your craft.
Furthermore, you are going to have to do work for free and often.
Especially if you are building a personal brand and you want to get your name out there to other individuals.
Give out programs, eBooks, and training sessions for free.
Always be available (if possible) to your athletes and clients.
These are all the little things that will contribute to towards building your career equity.
Social Media Has Provided a Jaded View
---
Social Media is an amazing tool.
It's also awful.
It has provided a false sense of reality in the fitness realm. Consequentially, it has left young-fitness professionals, like yourself, feeling insecure, timid, and a sense of "not enough" which has hindered you from your goals.
Social media leaves out the number one critical driver for success: Failure.
The failures you experience as an individual and personal brand will help you win the admiration of your potential clients.
You want to be real and authentic with people you are working with.
This will allow you to establish a relationship with them over the long haul.
These are all tangibles that social media will never be able to be convey.
You Need to Take Ownership of Your Career and Business
When I started as a Coach and Fitness Professional, I only knew one thing; be a good coach and trainer.

I wish I could tell you that becoming a high level fitness professional was ONLY about delivering a great training session.
Unfortunately, I would say this only makes up about 10% of the equation.
You have to understand the FULL scope of the industry.
Your first goal, of course, is to get good at training clients. From there, the possibilities are endless. The best trainers get paid to write, to speak, to consult, to endorse products and services.
This includes becoming an expert, communication, you're ability to sell, your ability to upsell, your ability to be creative, your ability to network, your ability to create a brand, and so forth and so on.
Feel overwhelmed?
No worries.
We created an entire company centered around helping your get straight to the top of the industry by teaching you the things that actually matter.
None of that happens until you realize you're not just a trainer. You're a business now.
You're responsible for your own business.
Even if your gym gives you people to train, it's up to you to keep them. No gym in the world will continue feeding you clients unless you can retain and renew them.
But that's just the first step. At some point you'll be expected to generate new business—to sell personal training to existing members, to bring new members to the gym, and even to create programs and services that increase your bottom line.
It comes down to this, you must forge your own path. You're part of a community of fitness professionals, but your career is your own.
When you're ready to take ownership of your career, were ready to serve you.
Your Instructor