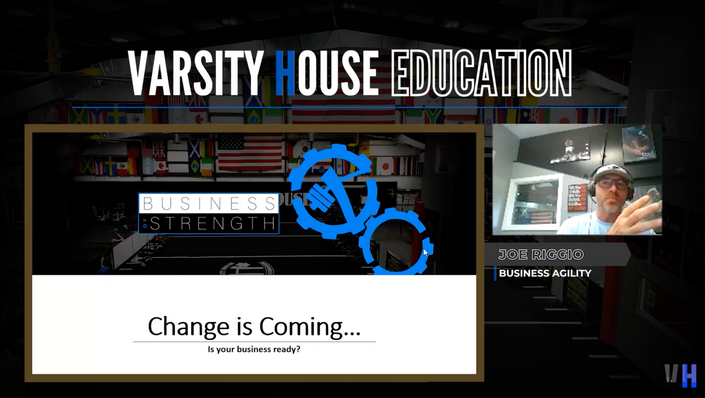 Business Agility
How to Build an Adaptable Business
Creating an Adaptable Training Business
Becoming more agile as a company will help you avoid, absorb, and accelerate through change. Companies that are fixed in their ways and close minded to change and opportunity will have a tougher time in the ever-changing landscape of the fitness industry.
In this course I will breakdown some of the key components to building an agile bulletproof business that can withstand anything and come out the other side ready to grow.
Since the start of the COVID 19 Pandemic in March of 2020 companies that had these systems in place thrived while those who did not either went out of business or were severely hampered by the change that occurred. Just like sports where "speed kills" in the world of business your ability to act swiftly, decisively, and with focus will allow you to score more points aka profit!
WHAT IS BUSINESS AGILITY?
Business Agility is having the systems, people, and leadership to
AVOID, ABSORB, ACCELERATE your gym business during a crisis or when a change in the way we do business as an industry occurs.
There are four key components to creating business agility:
Mindset – Open to change

Systems – Is there a clean WAY of doing things

People – Right people bought into the mission and brand (loyal)

Cash Flow – When the money runs out there is no business
Enjoy the course!
Joe Riggio
Course Curriculum
Business Agility: How to Build an Adaptable Business
Available in days
days after you enroll
Frequently Asked Questions
Do I have to pay for my own flight and hotel?
Yes, you have to pay for your own flight and hotel. However, we will provide you with the most affordable options to ensure you do not spend more than you have to!
Is the entire seminar recorded so we can go back and watch later?
Yes! We provide everyone (in the portal) with the opportunity to go back and watch the entire 2 day mentorship.
Can I refer another business?
Yes! Please do. However, we are only accepting 12 seats at our event. Every business you refer you will receive a referral check.