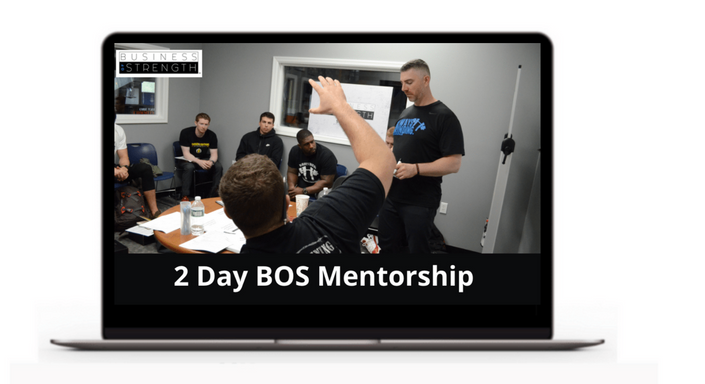 Business of Strength 2 Day Seminar
A Full 2 Day Training Business Makeover: Leadership, Operations, Marketing, Sales, and Training Systems
Coaches, Trainers, and Business Owners!
We're back! Welcome to the 2 day Business of Strength Mentorship. In this 2 day event we peel back the curtain of our business and teach you step by step how to take your business to 7 figures.
December 8th and 9th Come to Varsity House in PERSON.
We show you (through our mistakes) how to grow your business step by step. We provide REAL time examples of what is working within our business and how you can stay ahead in the private sector industry.
REGISTER BELOW FOR THIS EVENT
BUSINESS OF STRENGTH™ – Two Day Gym Owners Mentorship
December 8th and 9th | Thursday + Friday
DAY 1 – CREATING THE BACKBONE OF YOUR BUSINESS
8:00am-8:30am – Registration
8:30am-9:15am – The Strength-Entrepreneur's Mindset
Turing Pro
Becoming the CEO
The Coach Owner Paradox
9:30am-10:30am – Take Class with TeamVH
10:30-12pm – Creating a Vision for Success
Your Company Vision Board
The Big Picture / Pillars / Items to Accomplish
Setting Objectives & Accountability
12-130pm – Lunch
130-230pm – Hiring & Developing Great Employees
The hiring process
Internships
Above the bar / below the bar
People Analyzer (GWC)
Payroll & Incentives
230-3pm – The Advisory Board & Success Meetings
Actions Items and Pillars
Delegate & Elevate
Success Meetings
Weekly, Quarterly, Yearly Planning
3-430pm – Key Operational Systems
Everything has a system
Creating the Client Lifecycle
Ultimate On-Board
430-5pm – Closing Remarks and Questions
6pm – Dinner Social with group!
DAY 2 – GENERATING REVENUE
8-830am – Breakfast & Day 1 Review
830-9am – Finding Your Ideal Client
Who are you selling to?
How to attract the right clients
9-930pm – Creating Your Brand
Ultimate Branding Guideline
930-11pm – Marketing Your Gym
Creating Your Marketing Plan
Email Marketing
Using Social Media
101 Ways to Market Your Gym
11-12pm – Generating Revenue
1.Choosing Your Offerings
2.Pricing Strategies
3.Creating Multiple Revenue Streams
4.Upsells
5.Referrals
12-130pm – Lunch
1:30-3pm – Selling Your Products
1.Becoming a better salesman
2.Rules of Engagement
3.Creating Your Sales Force
4.Mock Sales Round Table
3-530pm – Gym Owners HOT SEAT!
Course Curriculum
2 Day Business of Strength Mentorship Important Documents
Available in days
days after you enroll
VIDEO: 2 Day Mentorship Replay
Available in days
days after you enroll
Frequently Asked Questions
Do I have to pay for my own flight and hotel?
Yes, you have to pay for your own flight and hotel. However, we will provide you with the most affordable options to ensure you do not spend more than you have to!
Is the entire seminar recorded so we can go back and watch later?
Yes! We provide everyone (in the portal) with the opportunity to go back and watch the entire 2 day mentorship.
Can I refer another business?
Yes! Please do. However, we are only accepting 12 seats at our event. Every business you refer you will receive a referral check.