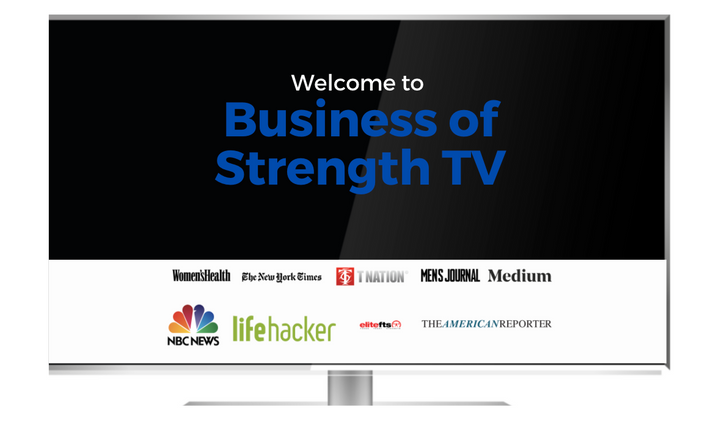 Want Your Work to Be Seen By Your Peers?
In the realm of sports performance, health, and fitness, we have so many creative minds who are helping push the industry in the right direction.
Unfortunately, the industry is being diluted with fitness influencers and false information, that are lowering the barrier to entry.
To make matters worse, social media is pushing the wrong type of content in their new algorithms. This puts coaches like you (who have great things to say) behind that of what "public opinion" views as valuable.
At Business of Strength, we are on a mission to create the gold standard of human performance, career development, and running a real business in the private sector sports performance industry.
WHAT IS BUSINESS OF STRENGTH TV?
We Created an Entire Educational and Content Based Platform for Coaches, Trainers, and Business Owners
Course Curriculum
Welcome to Business of Strength TV
Available in days
days after you enroll
Exercise Science + Sports Performance Presentations
Available in days
days after you enroll
Career + Personal Growth Strategy
Available in days
days after you enroll
Frequently Asked Questions
Do I have lifetime access to the content and presentations?
Yes! This platform was designed to connect coaches, trainers, and business owners who are striving to get better. We add to the platform weekly.
Can I share the information provided on the platform?
Unfortunately, we want to protect the work of the creators. It is encouraged you promote the platform so others may join, contribute, and learn!
Is there a limit to how many pieces of content I can produce?
Absolutely not! The more the better. We encourage all users to produce content.
Welcome to VH Education
A Message from Team BOS
---
So, you decided to take you career and business to the next level, smart move. In today's robust age of sharing information, you will come to a crossroads.
You are left to decipher what is information vs. what is knowledge. We must not only be able to recognize the difference as consumers, but as teachers as well.
In Varsity House Education, we don't want to just present information. We want to change the way you think, how you approach your life, career, and business.
Everything tool we provide you with in VH Education, has been battle tested in each of our careers and businesses.
We are open, honest, and transparent.
No stone is left unturned in our pursuit to help you have a successful career.
Whether you are a new coach, a vet, or a business owner; whether you want to become a world class leader in sport performance, or create a business that provides for you and your family, we turn your aspirations into realities.
We look forward to meeting you, see you on the inside.
Team Business of Strength.